Basic Information for Automotive Rearview Mirror Housing Injection Mold
Specifications of Automotive Air Grille Mold
| | |
| --- | --- |
| Description | Automotive Rearview Mirror Cover Injection Mold |
| Plastic material | ABS |
| Mould cavity&core steel | P20,2738,718H,738H,NAK80,SKD61,E420,etc. |
| Mould weight (T) | 10T |
| Feeding System | Cold runner/ Hot runner |
| Hot runner brand | YUDO, HUSKYFISA, HASCO, MOLD-MASTER |
| Nos of Cavity | 1*2 |
| Manufacture time (day) | 40 days |
| Mould life | ≥500000 |
| Packing | Vacuum+plywood wooden box |
Automotive Rearview Mirror Housing Injection Mold
Green Vitality Industry Co., Ltd. has extensive experience in the design and manufacture of automotive rearview mirror housings. Automobile rearview mirror shell products require a high appearance. There is a large area undercut on the outer side of the plastic part and multiple undercuts on the inner side. There are many undercuts and a large area. This is a typical structure of automobile rearview mirror molds. The mold gating system adopts hot runner injection and adopts a 1-point open hot runner + cold runner + banana gate, and the material of the parts is ABS. The inner side of the mold adopts the lifter core-pulling structure, and the large-area undercuts adopt the lifter and straight lifter structure. After the mold is opened, the product and the runner are pushed out by the pusher. The pusher fixing plate is pushed by the injection molding machine through the cylinder and reset under the action of the reset rod. The cavity and core sides are designed with multiple sets of cooling lines. Each cavity is designed with 2 sets of cooling lines. The fixed and movable molds are 4 in and 4 out. The mold cooling line is designed to be consistent with the material flow direction. It adopts: "Straight water line + inclined type With the design form of waterway + well, the water inlet and outlet distances are roughly equal so that the product has a good cooling effect and appearance quality.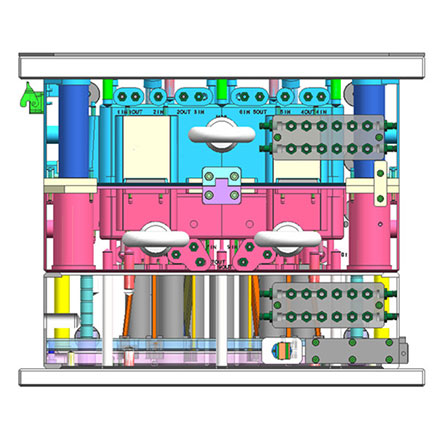 Green Vitality Can Offer You

Pre-sale:
Green Vitality provides a good sales team for professional and prompt communication.
In-sale:
We have strong designer teams, will support customer R&D, If the customer sends us samples, we can make product drawings and do the modification as per customer request and send them to the customer for approval. Also, we will accord our experience and knowledge to provide customers with our technological suggestions.
After-sale:
If our product has a quality problem during our guarantee period, we will send you free to replace the broken piece; also if you have any issue in using our molds, we provide you professional communication.